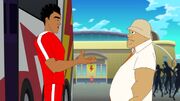 Spenza is
Shakes
' best friend who is often solves mysteries, mostly by snooping the opposing team to figure out if they are cheating. He likes to eat a lot. He most helps them from
Invincible United
.
Trivia
Knows Pig Latin, and often communicates with Shakes whenever they don't want others to overhear.
Has a crush on an El Matador Fan, Supa Fran
Has been best friends with Shakes since childhood
He is a car mechanic
Ad blocker interference detected!
Wikia is a free-to-use site that makes money from advertising. We have a modified experience for viewers using ad blockers

Wikia is not accessible if you've made further modifications. Remove the custom ad blocker rule(s) and the page will load as expected.