Supa Fran is one of the supporting characters and can be seen as a heroin in the series, even though she barely made a lot of appearance, unlike
Spenza
. She only made 3 appearance overall the series, starting from Season 2, episode 18 in El Sound Of Silencio. She helped
Supa Strikas
win their game by helping and supporting them from the opposition team, namely
Invincible United
. She is close friends with Spenza and
Shakes
and played as a crush to Spenza. She's a big fan of
El Matador
.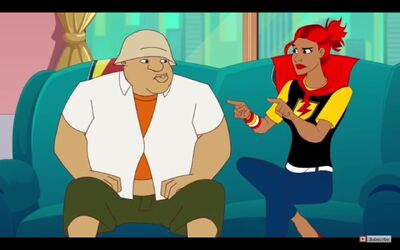 Appearance
She appears to be a typical South African lady wearing a Supa Strikas shirt with the club's logo. She has a shoulder length red hair that she tied in a pony tail and wears lipstick. She wears bracelets and a red cape tied on her shoulders. She also wears blue jeans and red high heels shoes.
Personality
She is a headstrong and a fearless lady that will do anything to help the team. She is also cheerful and optimistic as she seen cheering for the team every time she watched their match. She is also brave as she seen to attack one of the sabotage group that pretend to be Supa Strikas fans.
Appearance in Episodes.
Season 2, Episode 18 : El Sound Of Silencio
She is seen passing some lyrics to some fans but they refuse to sing for them. She's also seen to be attacking one of the guys from sabotage group that tend to destroy El Matador's confidence and as a result, being one of the witness of the attack and accidentally became famous for that. When she watched the De Los Santos confidence on beating them, she quickly came to their aid, with the help of Spenza. She pretends to reconcile with the guys she attacked before she dragged them to the field. She expose them as a group of sabotage team that works for Invincible United, their real fan. When she saved the day, she got to meet El Matador and when he tried to kiss her hand, she quickly turned to hug Spenza, her new close friend and as gave him a kiss on his cheek.
Ad blocker interference detected!
Wikia is a free-to-use site that makes money from advertising. We have a modified experience for viewers using ad blockers

Wikia is not accessible if you've made further modifications. Remove the custom ad blocker rule(s) and the page will load as expected.